OFFICERS
President:  Inge Mesik
Vice Presidents:  Rosemary Wade
Secretary:  Norma Stancati
Treasurer:  Jolaine Snyder
Council Director:  Carol Beckius and Inge Mesik
Meetings:  1st Wednesday at 10:00 a.m.
Fiscal Year June 1 thru May
Organized in 1978 – federated in 1978
CLUB MEETINGS & PROGRAMS
July 1, 2015 … Final Preparation for the Garden Walk
July 17, 2015 … Party for Garden Walk Hosts, All members will participate
July 18, 2015 …  Garden Walk, all members will participate
August 5, 2015 … Garden Walk wrap up.
September 2, 2015 … Vines, etc.
Community Activities
History
The Landscapers Garden Club has its beginning in the year 1973 when Helen Wiles, a member of the Kalamazoo Garden Club, decided that the Michigan Garden Clubs (former Federated Garden Clubs of Michigan) Landscape Design School be held in Kalamazoo.  About ten Landscape Design Consultants completed these courses which formed the nucleus to the, The Landscapers Garden Club.  The club organized, federated and became a member of the Kalamazoo Garden Council in 1978.

To honor the memory of Helen Wiles, who was instrumental in the formation of the Landscapers Garden Club, a tree was planted in the Council's Memory Walk area in 1993.
In years past, upon request, the members have judged the Stuart Avenue Historical District gardens and participated in the Best Way Disposal Flower and Landscape Contest as judges.  Years ago, we established the Kalamazoo Garden Council-Kalamazoo Gazette Award, and from May to September an outstanding home and commercial gardens would be featured in the Kalamazoo Gazette.

This project has taken on a new name "Inspiring Gardens" and was judged by various garden clubs within Council.  We were happy to see the Kalamazoo Garden Council received recognition for their efforts to promote good environmental and landscaping practices in the greater Kalamazoo area.
The Landscapers Garden Club sponsors a biennial garden walk.  We have held eleven tours with the last in 2013, but will host another walk on July 2015.  The profits from the garden tour provide funds to sponsor scholarships to a Michigan student enrolled in Landscape Design or Landscape Architecture and to support our Blue Star Memorial located at the Veterans Park in Portage, Michigan.
To be a member of the club, one must have successfully completed a course offered byNational Garden Clubs / Michigan Garden Clubs, Inc., Landscape Design School with the intention of completing all courses for a Consultants Certificate.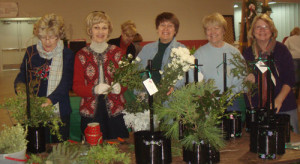 All programs and projects of the club except for the annual Council Greens Sale project are focused on outdoor plants and landscaping.  We meet the first Wednesday of the month at 12:30 P.M., March through November.  The majority of this club's membersbelong to two or more garden clubs in the Kalamazoo area.
For more information contact Lynn Dinvald, YdoubleLNE@aol.com